Dating site, being interested and open to others
Caramiss is developed in 2020 on a very simple observation, many people are still single. Dating sites have existed for several years, the same for social networks, these famous tools developed to connect us and get closer to each other, are ultimately not so effective to believe the statistics. Certainly too difficult for some and / or too boring for others. When we were created, we used this type of information to offer a more fun and more appropriate service to Internet users who were not born on the Internet. Dating site fast, simple and above all very effective in finding partners around the world for all kinds of meetings. Our site is deployed in several countries and translated into many languages. It is also accessible 24 hours a day from a desktop computer, laptop or tablet.

Now let's talk about security, a crucial point when creating any websites, especially those in the dating sector. Very quickly, many fake profiles were born and this is one of the reasons why many people have given up. By creating our website, we want to destroy these situations and we are starting from zero tolerance for false profiles. Difficult to control malicious people from a distance, so we choose the option (double identity verification). This completely eliminates unwanted profiles and offers optimal security for your meetings in peace of mind. You have all the details on your profile inside the site. One important thing to know, which is not least,all registrations are checked and moderated by human beings, we want your experience to be as user-friendly as possible, your safety is our priority.
Dating site like no other, here's why
Our
dating site
totally revolutionizes online dating. We have bet everything on 3 tools which seem essential and above all complementary. We have created an ultra-fun search tool, all people can use it easily, especially the unusual Internet users who are our priority target, we wish that everyone can use our services with ease and pleasure. A magic button is at your disposal at the top of the site, in one click, you get a result that meets your expectations, thousands of members are found thanks to our intelligent algorithm. You have a webmail in the top menu with two numbers on each side that define, your global conversations, your unread messages and your great conversations. And to finish your profile page,the one that acts as parameters, you can modify all your personal information, photos ...
Caramiss can become very addictive due to its ergonomics and its ease of use, everything has been designed with a simple and light perspective to facilitate meetings around the world. A particularity is also highlighted by our care on the privacy of each, the emails you receive from us are very few, we consider this point very important, especially for female profiles who can receive several hundred every day messages, that's why we don't include this notion in your modifiable parameters. We send you emails when creating an account, recovering your password ... but in no case during a member visit, sending a message ... your well-being matters to us ! Therefore, n 'don't forget to come back often to the site to check your activity. Every day, 3 non-cumulative crediz are offered to you!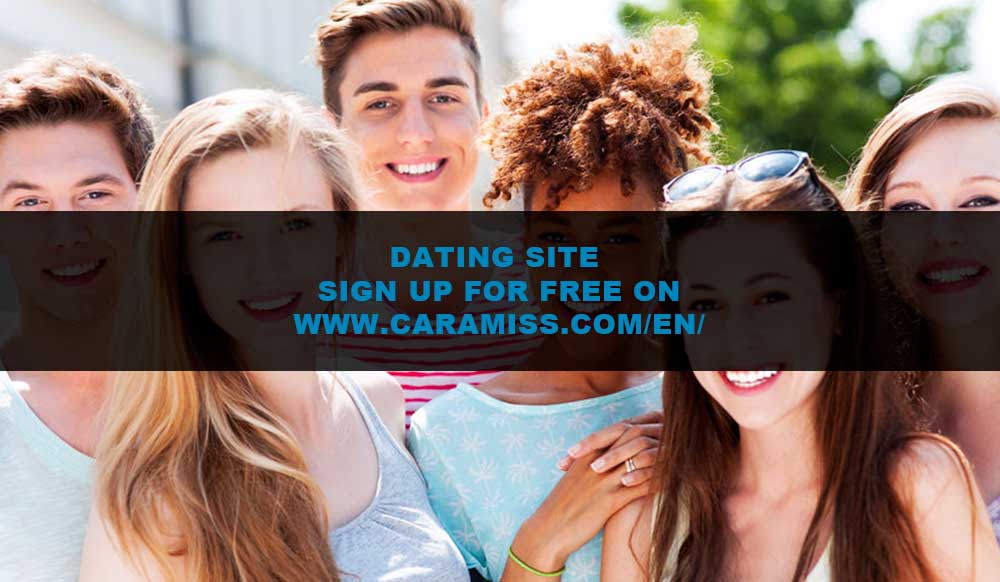 Once your registration is complete, what exactly happens ?
First of all are you satisfied with your language ? Here you are targeted on LANGUAGE: ENGLISH, if this content does not suit you, click on one of the two preceding links and you will be redirected to the page of international languages, you will be able to choose the one that suits you best. Then click on the blue button (become a member of Caramiss) to land on the registration page. Fill out the form correctly and quietly, this takes less than a minute, but do it well to avoid wasting time. Carefully read the explanations next to each field. The more precise you are, the better our algorithm will provide you with quality profiles according to your wishes. A large part of our algorithmic calculations are based on your registration, itit is therefore with particular care that you must carry it out.
Once you get to our
dating site
, the last step is to send your photos. This is where it comes into play: double identity validation. Two photos are requested. The first is for your profile and the second to verify that you are the owner of this photo, explanations are detailed in your profile. We put this in place for security reasons, because too many fake profiles are self-service on the internet. Our priority is and will always remain our transparency and your security. You should know that any profile is controlled by human beings and not robots, this can create a waiting time of approximately 48h to 72h working. As long as your profile is pending moderation, it will be invisible in search results, however,you are totally advised to browse to familiarize yourself with the site, you can already search for members and come back later to carry out your timed chats.
Get the link from the site
Dating people is good, but afterwards, what do we do ?
And yes, once you find a partner, why stay hooked on the internet ? We have based our whole concept on real meetings, the virtual is good, but that is not all. Our idea is designed on the principle of speed dating, but instead of being blocked by the 15 minutes usually granted by this format, we leave you 7 days before the deletion of your chat completely ! No obligation whatsoever, just a little help from destiny, the internet is not an end in itself, but just a means, it should not be forgotten. After your time is exhausted, our system will automatically and permanently destroy your chat, if you have exchanged personal information, such as a phone number, a skype, a facebook, an email or any other means of keeping in touch,note it quickly on your side, because our system will erase it after 3 days.

Once you have found a partner, or even several, offer physical meetings, do not stay on the site, it is necessary to take action, it is very important. Choose a neutral place and preferably in a public place, a park, a bar, a restaurant or why not a walk, but always in an attractive environment with people around. Between 7 p.m. and 8 p.m., give him an hour for your first meeting, in this way, if your date goes well, time will pass quickly and you can renew it, otherwise you will not have lost all your evening. It is strongly recommended during each appointment to notify a close member, family or friend, before your outing, because in the end, you do not know the person you are going to meet,it's the little things that make the difference.

Choose an English-speaking country to meet singles : England - USA