Meet new people and open up to other cultures
Caramiss's story begins in January 2020 with a very simple statement, too many people are still alone or poorly accompanied. Since the 2000s, several meeting sites and social networks have been created to try to decrease this growing phenomenon, from friendly encounters to ephemeral encounters, there are really for all tastes. But, strength is found that some sites may be unsuitable for people who were not born during the Internet. That is precisely where our role comes in. Wanting to meet online is good, but for some it still remains the course of the combatant. People often use this medium due to lack of time or for practical reasons. We decided to offer to Internet users a tool that combines intuition, ease and speed, in a sober and secure setting. The reunificaiton of all these elements offers you unprecedented comfort.

Now, let's talk a bit about security, a complicated sector to control remotely, especially on the internet. We wished focus on this very specific point, as it is quite possible to avoid some problems related to the insecurity of false profiles, the web sites and especially those who are in the online dating sector. Meet new people Yes, but not at all costs. That is why we have put in place a system we have named : dual identity. It is important to know that all entries are controlled by a human being, whether validated or refused. When registering, the site requests two photos, a profile photo and a verification photo, this process is the tolerance to zero false profile. To have more details on this topic, you can point to the registration page where everything is well explained. Your safety is our priority.
A completely different website from the others, you will see why
Caramiss is one of the sites that revolutionizes the online dating industry. We have concentrated all our efforts on three very distinct but complementary parts. Research, webmail and chat are the three tools that you
meet new people
in a simple and efficient way. The site is completely different from these Competitors by the total absence of menu, this one is placed at the very bottom of the site not to disturb you. At the time of your registration, you fill in the fields that our algorithm retrieves to offer you the best profiles as soon as you arrive, if these do not you not suitable, we have created a magic button, which in one click, offers you many other members. Everything is studied, so that your experience is pleasant and especially very easy. The site is very addictive thanks to its ergonomics.
Three links are always accessible from the top of the site: your profile gives you access to your account from which you can make changes or modify parameters. The magic button, which allows you with a single click to have a maximum members not far from you, he takes care of your search. Your webmail, will centralize all your chats, it is designed and developed for you ease the task, everything is playful and intuitive. What emerges is that for everyone from 18 to 99 years old and this in all the countries of the world, the site is totally adapted, therefore, our challeng is raised. It is also interesting to address a point on which we are very picky, it is the privacy of each one, that is why, you will receive almost no email from our If you want to know who you are writing to, just log in every day.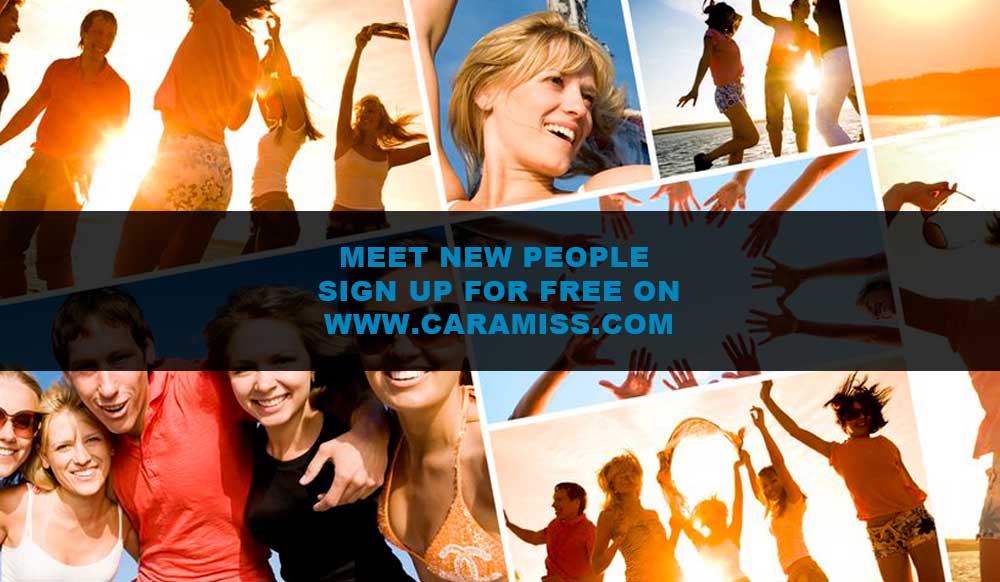 Concretely, how to register on the site and after...
First you choose your country and your desired language in the field above, then click the GO button, we will redirects to the most appropriate domain. Once your site under the eyes, you click the blue button (become a caramiss member) who will take you directly to the registration page. For those who wish to have the site in English, click here. Once you arrive on your registration page, fill in the fields carefully, it takes less than a minute, but do it quietly. Registration is done in one step and that is precisely where the dual identity comes into play. You have two fields to download your profile photo and your verification photo, read well, because if you want to save time on the use of our services, send us directly the right photos in the right formats.
As soon as we receive your photos, they are processed within 48 to 72 hours, your profile is carefully controlled, this step is essential for the well-being and safety of all our members. You receive a confirmation email if all is well conducted. However, while waiting for your profile moderation, you can browse the site to familiarize yourself with it. When consulting the profile pages, if a member catches your attention, do not hesitate to put it in your favorites to find it by the rest. The step of moderation is crucial, it is our guarantee of quality. During this attention, your profile is in invisible mode, you do not appear in the search results. After validation by our teams, not only does your profile intervene in the results, but then you can start sending messages to member for
meet new people
.
Get the link from the site
Meeting new people is good, but after what we do
We designed Caramiss, on a very simple idea, that of speed-dating. On the site, we offer the opportunity to chat with everyone, there are no barriers, be it cultural, geographic or language, we open the borders and the possibility to all people to meet. However, we have voluntarily chosen to rely on real and not virtual meetings. The development of our communication tool called chat is limited to 100 messages per discussion. Exceeded this amount, your conversation is blocked, you are warned by an admin message offering you to continue in real life or end your exchanges. The concept is deliberately radical, we want to encourage real meetings, which is why, by refusing to continue, you can no longer retrace your steps, it is impossible to resume contact with it. Therefore, it is important to choose well !
If your choice is focused on a YES, you concretely exchange your private emails and continez outside the site to know better this does not commit to anything, but one more step is made your future. We recall and recommend the necessary safeguards to put in before at a first meeting. It is primoridal always to meet in a public place and preferably when it In daylight, avoid nightfall especially for your first date. If possible, keep a loved one, friend or friend informed your family member that you have met someone on the internet and that you would like to see it. Clothing recommendations for women and men, come dressed chic and clean, no outfits too extravagentes, stay simple and especially courtoi. Normally with all this information, everything can only go well. We wish you good times and nice meetings !
Choose your language to discover the thousands of singles around the world :
English
-
Español
-
Français
- Italiano - Deutsch